december 21, 2002 lockdown
going to go ahead and make my small systrace shell available. it works pretty simply. please read the README file in it. its for OpenBSD, it may work just as well on NetBSD (and even Linux, with marius' support).
december 16, 2002 all three dimensions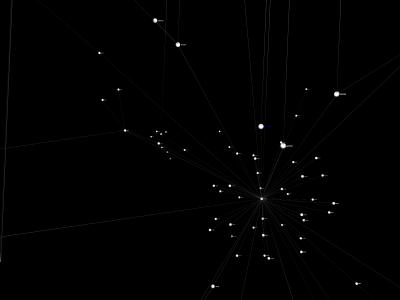 above is a small sample of the 3d graphic from the network data i did. i warn you, the actual file itself is large. i generated the data using tracepath, brought the data into a dot file format, generated the graph using springgraph, and rendered it using povray.
of course a 2d version is also available.
december 15, 2002 scaling the walls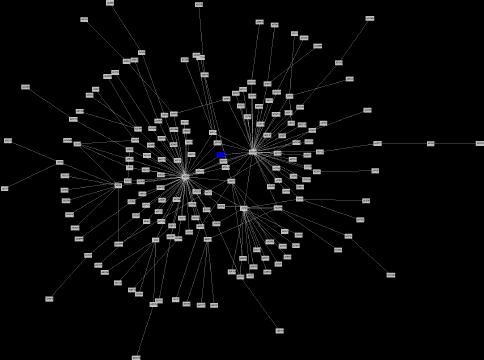 above is the work in progress Internet map i'm making right now. after learning how to do large graphs in neato well, i am using that. still using tracepath, still abusing my cable modem bandwidth. i'll alert you all when its done ...
i give my umeet02 presentation shortly, tune in!
december 9, 2002 subject matter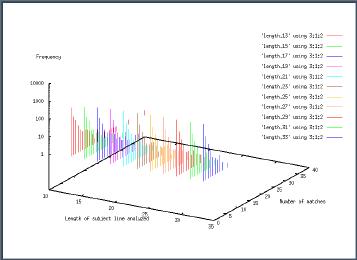 above is a yet another graphic in my spam analysis. i looked at the length of the subject line (in characters) as a function of frequency. basically what you do is you cut the subject line from position 1 until whatever and then look at how many match that fragment. i did this for subject lines of 13 to 33 characters (the term "subject: " takes up 10, so this was lines of 3 to 23 characters in the actual subject line content). the results are graphed above (and follow the link to the larger image).

basically what you are seeing is that as the length increases from 3 to 23 characters (the x axis, moving left to right from the back left to the front right) you see fewer unique matches (the number of matches on the y axis) and the more unique matches (1 or closer to 1) increasing in frequency (z axis, veritical).

the implications of this are simple: if you filter spam based on subject lines, you have to have a long list of filters to be effective. and even then you are better off with short (ie 3 character) fragments to match a lot of spams with a smaller number of filters. even then only a handful of spams (under 20%) are matched more than only a couple of times. in this analysis nearly 3000 spam mails were analyzed.

december 8, 2002 jet planes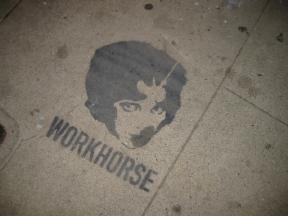 just got back from anaheim and southern california, hence things on deadly have been slow and the like. check the pictures (listed at left). i'm also now on the pylibnet project, also at your left. my goals are to make it build more cross platform and to update it for libnet 1.1. mad props to jsyn, rudy, the dachb0den guys, sd2600, and the like. thanks for hanging out, good to meet some of you in person.